Resistor Values Wall Chart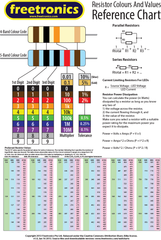 This handy wall chart is a great quick-reference guide for your workshop or hackerspace. Printed on heavy-grade glossy card in A3 size (297x420mm), it's easy to read and keeps critical information right where you need it.
Features
Colour codes and examples of 4-band and 5-band resistors
EIA preferred values table for E24, E48, E96, and E196
Handy formulae for series and parallel resistors, power dissipation, and LED current limiting resistors.
Resources
Changelog
v1.1 Sep 13, 2013: Fixed 1x value multiplier.
v1.0 Jan 16, 2013: Initial release.
SKU: