Capacitor Values Wall Chart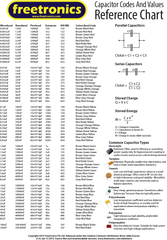 This handy wall chart is a great quick-reference guide for your workshop or hackerspace. Printed on heavy-grade glossy card in A3 size (297x420mm), it's easy to read and keeps critical information right where you need it.
Features
Capacitor value table from 0.001uF to 220uF.
Every value shown in microfarads, nanofarads, picofarads, European and EIA/MIL codes, and colour codes.
Handy formulae for series and parallel capacitors, stored charge, and stored energy.
Summary of common capacitor types and uses.
Resources
SKU: